This Stainless Steel TP-200 Fully Telescopic Security and Parking Post locks into the upright (and down) position with an integral top lock.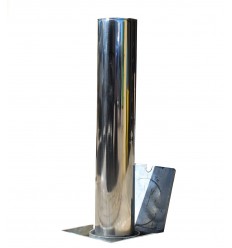 When not in use it retracts back into the ground base leaving a totally flush ground surface (safe for pedestrians and vehicles to cross).
The post has a protective seal between the top post and ground sleeve, when not in use there is a hinged lid that completely covers the top of the post. 
Telescopic Posts are the strongest design of Post or Bollard due to the fact that their is more material under ground than above.
This quality looking post is ideal for installations in the front of all types of domestic homes & small retail premises, locations where Security and Appearance is important.
Add a Cover to protect the Lock from Dirt, Rain & Frost !!
This type of Telescopic Post or Bollard can also be referred to as:
Retractable.
Pull Up.
Lift Up.
Very popular due to the quality Stainless Steel Finish !!
Need Advice on choosing the best System for your personal application or Help after you have Purchased one, then please contact
us by:
Telephone: We are still available in the old fashioned way, give us a call on 01604 589414 or 01604 758438 to talk to a real person, we are happy to give you Friendly, No Obligation advice (lines open 8am - 5.00pm Monday - Friday).
Email: If you don't have time to call us, then send us an email to info@ultrasecuredirect.com. 
 
Personal Visit: Some customers find it far easier to come and meet us for a Friendly, No Obligation Consultation (click here for full details).